Solid results prompt Deloitte to repay entire Covid-19 pay cut
Better than expected financial results have prompted Deloitte's executive team to repay staff the entire Covid-19 pay reduction effectuated earlier this year, delighting the firm's 9,000-plus employees.
Soon after Covid-19 hit Australia's shores and the economy, professional services firms including Deloitte were forced to roll out a range of cost cutting measures in order to contain the impact of the pandemic-induced downturn. A fallout of demand, in particular in the advisory, consulting and deals segments, led to significant drops in project volumes, as well as fees.
In April, Deloitte unveiled its first set of measures, which included a 25% pay cut for equity partners and a proportional pay cut for non-equity partners, and an annualised pay cut of 8% for all staff (pay could however not fall below $65,000 per year). On top of that, staff and partners were demanded to take one week of annual leave by June 30, and 10 extra days of leave between May – September.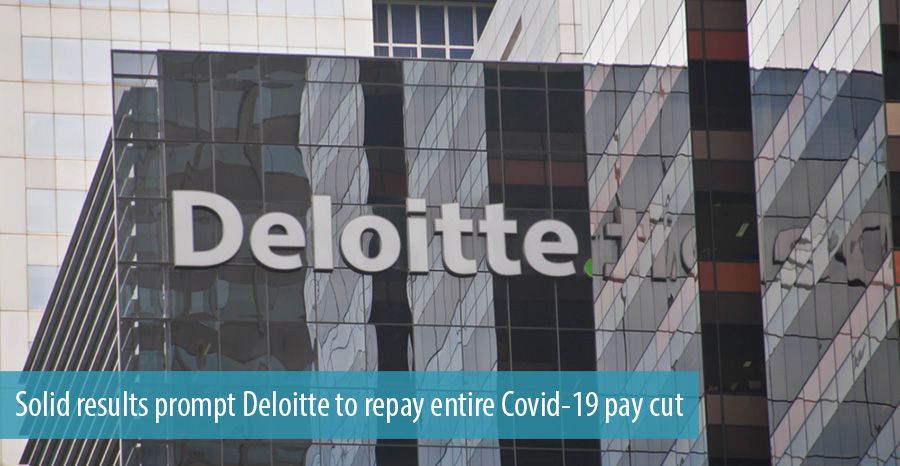 Fast forward six months and Deloitte's performance has proven more resilient than it initially planned for, a feat chief executive Richard Deutsch attributes to the firm's leading position in the market and the quality of its talent.
Speaking to Australian Financial Review (AFR), he said: "Our half-year results are strong... I am so proud of the hard work, dedication and focus of our people to help our clients navigate through this crisis. Our continued better-than-planned performance is a testament to our market-leading skills and capabilities."
In a pre-recorded message sent out to all Deloitte staff on Wednesday afternoon, Deutsch sent the firm's over 9,000 employees into ecstatic mode, with the news that the firm is rewinding its pay and leave measures. The accounting and consulting giant will repay the equivalent of 2.5 months of pandemic-related staff pay cuts along with 10 days of leave.
Meanwhile, staff have been handed four days of extra leave on top of that as an appreciation for their commitment in what has been a rollercoaster year for all of the firm's divisions – Audit, Financial Advisory, Tax and Consulting (which houses the Monitor Deloitte and Deloitte Digital teams).
The news comes weeks after some staff had openly complained about the firm's Covid-19 measures in light of already improving financial results. But, "we promised our people that we would continuously review our performance and recognise their hard work and contribution," said Deutsch, adding that he is proud that the firm has now been able to deliver on its promise.
The move makes Deloitte the only Big Four firm in Australia to have gone so far in repaying its employees. In comparison, the other trio all announced annualised pay cuts of over 4%. Looking ahead, Deutsch said the firm's leadership is "optimistic about 2021."
Deloitte generates revenues of $2.5 billion nationally. Globally, the firm is the largest of the Big Four.