Making the last mile of ecommerce deliveries sustainable
Rethinking the last mile of deliveries could make ecommerce greener – with potential to cut over 50 kilotonnes of emissions in the Greater Sydney area alone. A new Accenture study with Frontier Economics presents a sustainable delivery supply chain model.
The backdrop is set by store closures, lockdowns and the resultant ecommerce boom that ensued after last year's Covid-19 outbreak. An unforeseen outcome from the chaos: the vast ecosystem of ecommerce supply chains actually got greener.
In focus here is the last mile – the final journey of a purchased item from a storage unit to a customer's home. The most complex and expensive part of the ecommerce supply chain: the last mile is also the most carbon-intensive –picture a sea of delivery vans and trucks.
"The carbon footprint of the last mile has long been an environmental and societal challenge," noted Andre Pharand, Accenture's global managing director for post and parcel. As things stand, emissions from the last mile will jump by more than 30% by 2030. This where the pandemic has brought hope of a greener future.
Take the concept of fulfillment centres – conventionally large packing warehouses where products are prepared for last-mile delivery. The pandemic highlighted the value of micro fulfilment centres (MFCs) – local stores, automated lockers, suburban storage units, standalone micro-warehouses and other innovative storage solutions.
Through last year, MFCs expanded supply chain reach, enabled same-day or next-day deliveries, and – most importantly – enabled in-person collection by the customer, who could just walk or bike down to their local facility. "Out of sheer necessity, new consumer behaviours and retailers' responses to them changed last mile delivery's carbon footprint, making it more sustainable,"noted Pharand.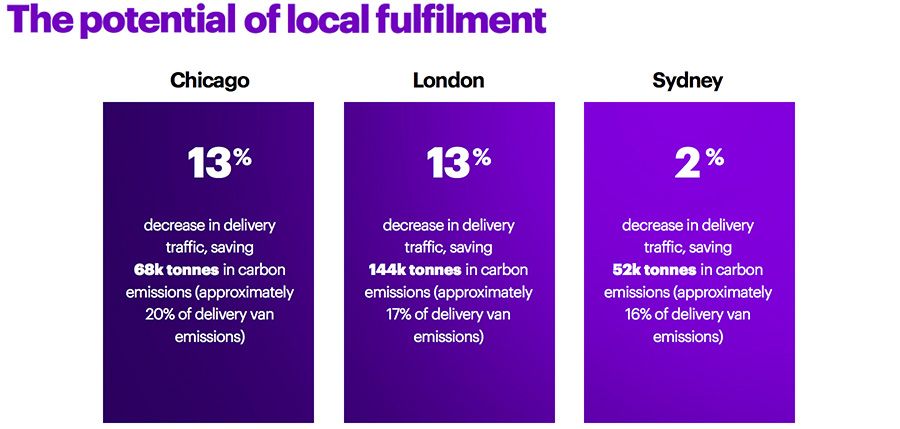 Accenture and Frontier Economics sought to calculate the environmental benefits of MFCs, through an econometric model built on ecommerce data from three pilot cities – London, Chicago and Sydney. And the results are staggering: overall, last mile emissions could be cut by over 25% in the next half a decade by localising fulfilment centres.
In Chicago and London, MFCs could reduce delivery traffic by over 10% – cutting carbon emissions by 68 kilotonnes and 144 kilotonnes respectively. In Sydney's expanding urban landscape, a mere 2% cut in delivery traffic via MFCs could shrink the carbon footprint by over 50 kilotonnes.
In short, an emergency response to the pandemic has illuminated the path to a more sustainable ecommerce supply chain, solving an age-old problem of last mile deliveries in the process. Pharand cites the monetary and environmental costs of the last mile – coupled with the broader economic impact of climate change – as enough imperative for global players to act, and act now.
"The sustainability gains that came from the pandemic were unintentional. Yet they happened at an ideal time. Now it's time to get intentional and make the last mile more efficient, less expensive and more eco-friendly."
Doing so will require buy-in from the entire ecommerce ecosystem – spanning retailers, delivery companies, governments and consumers. Data has a huge part to play in these efforts, providing an overview of inventory, delivery concentration, consumer behaviour, timings and emission – all of which can inform an intricately planned, optimised and sustainable last mile delivery system.
"Our model shows that when route optimisation is applied with local fulfilment, delivery vehicles drive 140 million kilometers less," noted Pharand, highlighting the value of "combining technology with human ingenuity."