Covid smashes media advertising revenues while digital news booms
With the need for up-to-date information, the Covid-19 pandemic has accelerated the consumer switch from print to digital news media, according to the latest media industry report from PwC.
The professional services firm has released its annual wide-ranging entertainment & media forecast for the Australian market – this is its 20th edition covering 2021-2025 – and as could be expected, the global coronavirus pandemic has had a significant impact on the local media landscape, with Covid-19 triggering the sharpest contraction in Australian entertainment and media revenues since the report's inception.
For raw numbers, the total Australian advertising spend last year contracted by 8 percent to $15.4 billion, while consumer spending was also down, falling by just under 2 percent to $42.5 billion. Even for those mediums which attracted more eyeballs due to the nature of the pandemic and widespread lock-downs, such as digital news and free-to-air television, advertising revenue was also down, hampered by the economic disruption.
Above all, the impact of Covid-19 is largely seen in accelerating consumer behaviour trends that were already well underway before the outbreak of the virus, such as in the rise of streaming on demand services and individual content creators – the health crisis pulling forward industry tipping points in PwC's estimate by several years. Nevertheless, the analysts predict a return to 2019-level revenues for the overall industry within three years.
Print media
One segment which has long been central to the digital disruption story is traditional print media. Following years of heavy declines, print advertising revenue dropped by a further 24 percent last year, to $882 million, while circulation revenue also dipped by 6.7 percent to $735 million. In 2016, print advertising revenue was worth $1.8 billion. According to the forecast, the market will drop further to around $600 million by 2025.
Meanwhile, the appetite for news grew last year, with PwC reporting that 15.6 million Australians regularly engaged with brands across platforms.
As noted by the authors; "Coming through bushfires, floods, and then the global pandemic, Australians accessed their news from a number of sources, with digital channels becoming even more critical as people sought up-to-the-minute information regarding quarantine measures, lock-downs, and vaccination programs."
The immediacy of digital news, says PwC, was undoubtedly one of the drivers behind the increase in overall digital news consumption. While advertising revenues in the segment weren't immune to the market-wide pinch – dropping 5.5 percent to $463 million – digital subscriptions soared, with revenue up 23.5 percent to $375 million. And digital news advertising revenues are already predicted to bounce back to above pre-Covid levels this year.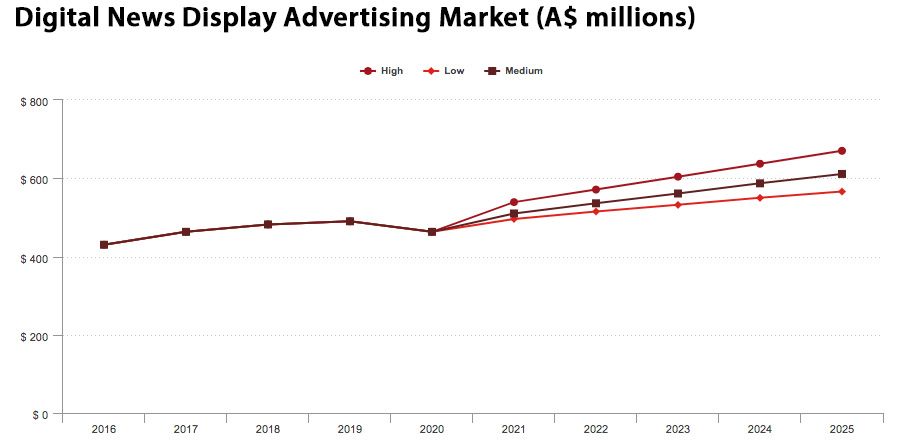 The mid-point forecast for digital news advertising for 2021 is a jump to $510 million, ranging as high as $539 million, with a 2019-2025 CAGR forecast of 3.8 percent pegging the market at $611 million in 2025, or $670 at the upper end. Meanwhile, circulation is expected to rise at a CAGR of 11.4 percent over the same period, pushing revenue out to between $537 million and $636 million by 2025. Five years ago that figure stood at $147 million.
"We see five major power shifts that are impacting the entertainment and media landscape to varying degrees. The overarching shift is undoubtedly sustained digital disruption," said PwC CMO Advisory partner Justin Papps, who co-led the report. "As we emerge from the pandemic, industry players who take stock of the shifting environment, and evolve their strategies and business models to embrace the new consumer behaviours, will come out on top."