Deloitte issues mandatory vaccination order for employees
Employing 10,000 people nation-wide, Deloitte has become the first of Australia's large professional services firms to issue a mandate on compulsory vaccinations for employees.
Professional services firm Deloitte has informed its 10,000 Australian staff-members that they will require full Covid-19 vaccination to return to the office or attend Deloitte events. According to reports, the vaccine mandate will be in place from at least the beginning of next year, and will extend to all partners and employees together with contractors. It's unclear whether unvaccinated clients will be able to visit Deloitte offices or events.
The move follows that of Deloitte's US arm, which has a workforce of around 100,000, and is the first such policy instituted by any of the large professional services firms in Australia. Deloitte's Big Four rivals – PwC, Ernst & Young and KPMG – with which Deloitte recently came together on a joint "vax return" campaign, do not currently have plans for mandatory vaccinations, but are all encouraging staff to get inoculated.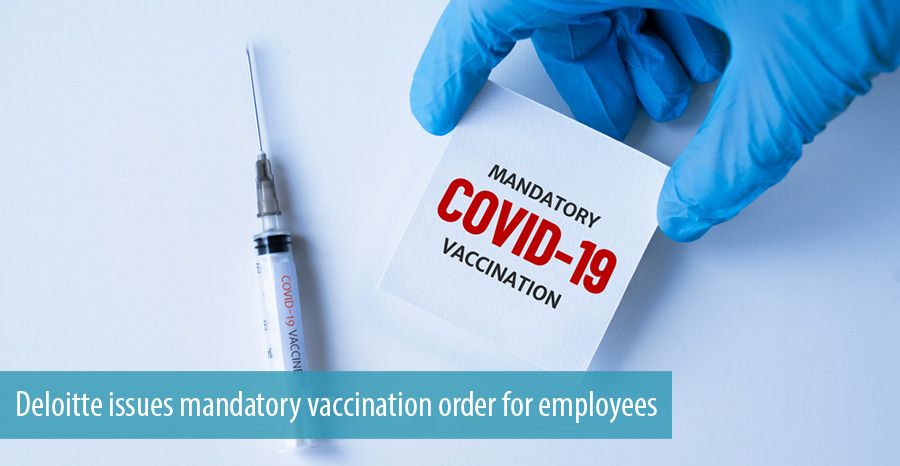 The mandate also comes at a time of a severe talent shortage and fierce competition among the firms for recruits, and may have some ramifications. Yet, according to Consulting.us, over 90 percent of Deloitte's staff in the US were already fully vaccinated or planned to be so by the start of September (the requirement there will commence next week), while just 8 percent of employees surveyed either declined to be vaccinated or chose not to respond.
As part of the recent recruitment and retention squeeze, which has been exacerbated by Australia's ongoing international border closure, each of the Big Four have in recent months established new employee initiatives. For Deloitte, this included the scrapping of fixed office hours in favour of increased flexibility, yet it remains to be seen if an employee could feasibly carry out their duties if unvaccinated, with clients also potentially requiring proof.
Still, for Deloitte's competitors, it may be a matter of wait-and-see, with public blow-back so far limited. A spokesperson from Accenture told the AFR that the firm was still ironing out the specific details around a return to the office – "including what this looks like for our people at various vaccination stages" – while Catherine Walsh, PwC's head of people and culture, said that the firm is "currently exploring what Covid-19-normal looks like" for PwC.
Recently, PwC itself published an article on compulsory vaccinations in Australia, outlining the legal and political minefield ahead as workers begin to return to the office. Some factors raised for consideration were workplace health & safety obligations to protect employees, contractual issues in the event of refusal, privacy around personal medical records, and discrimination, with some segments of the community having specific cultural reasons for remaining unvaccinated.