Digital skills gap costs businesses $9 million per day, says report
Australia's digital skills shortage is costing Australian businesses $9 million per day, according to a new report from RMIT Online and Deloitte Access Economics.
The report, 'Ready, Set, Upskill: Prioritising skills for a resilient workforce' highlights how the job market is still incredibly competitive, with unemployment at a record low (3.5%) and job postings up 15% year on year. Two-thirds of jobs were also advertised for 31 days or longer, indicating that businesses are struggling to find the staff.
As companies increasingly rely on technology to streamline operations and improve efficiency, employees who possess digital skills are becoming more valuable than ever.
Four out of 10 of the fastest-growing skills are digital. In fact, proficiency using productivity software was the fourth most requested skill across the labour market in 2022, demanded more frequently than problem-solving and organisational skills.
Demand for sophisticated and complex digital skills is also on the rise, in line with the rapid development of advanced digital technologies. As the demand for digital skills continues to grow, the skills gap will continue to grow – and so will the cost to businesses.
The cost of not addressing the digital gap
According to the leaders interviewed, the gaps in knowledge are impacting companies in several ways including the loss of business (19%), the increase of outsourcing costs (19%) and reduced productivity (18%), among other issues.
As the pool of skilled talent grows increasingly smaller compared to demand, companies are struggling to find the right candidates to fill their open positions. This has led to a renewed focus on upskilling existing employees, alongside hiring new employees with the necessary skills.
According to RMIT Online and Deloitte Access Economics, large Australian businesses will need to invest $1.5 billion in training to close the current digital skills gap.
John O'Mahony, Partner at Deloitte Access Economics (part of Deloitte), said: "If businesses underinvest in digital skills training it can result in a loss of revenue, additional costs of outsourcing work to external staff or contractors and reduced productivity. That's why training is an investment, not just a cost."
The role of training to bridge the divide
However, employers and employees diverge on the training frequency and quality, with employees indicating there are barriers to upskilling companies need to solve.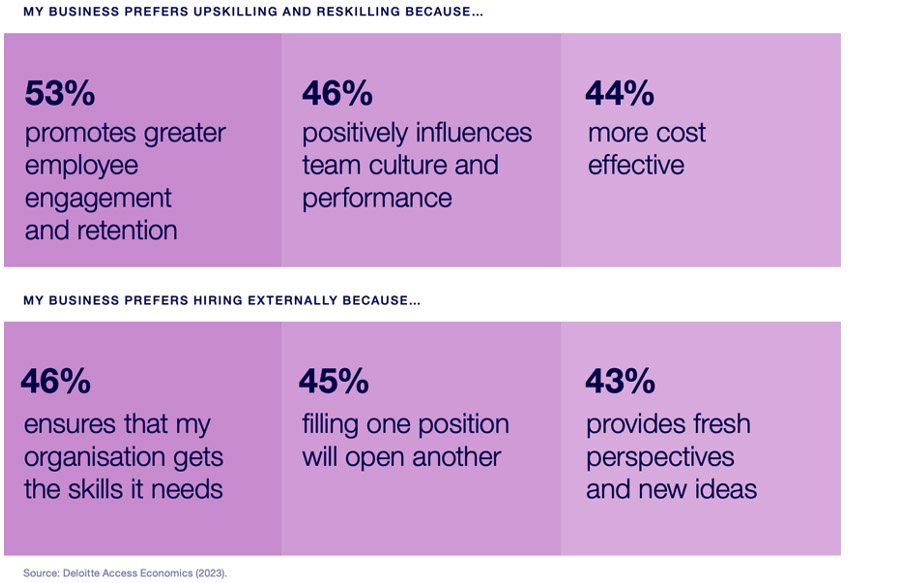 While over a quarter of employees (26%) believe it is necessary to refresh their skills at least every year, employers think this should happen more often, with a third (33%) saying workers need to refresh their skills at least every three months.
Barriers to learning new skills include work commitments, the cost of training courses, employer resources or support. However, it's mutually beneficial to invest in learning & development. Employees who received a promotion in 2022 spent 50% more time on training on average than employees who did not receive a promotion.
Claire Hopkins, interim CEO of RMIT Online, said: "The demand for digital skills is only going to increase, and businesses and employees need to take action to stay ahead of the curve. Therefore, it is essential to provide training and education that's tailored to the skills required in today's fast-paced, ever-changing digital economy."
"Investing in upskilling and reskilling can help to close the skills gaps and ensure that Australian businesses remain competitive and resilient in the long term. It's time for businesses and employees to take action and invest in their futures by upskilling and reskilling."