Most Australians support long-term government work ban for PwC
PwC scored more than $500 million in federal work over the past two years. Now, the majority of surveyed Australians think the firm should be permanently banned from any further government contracts.
A new survey from public policy think-tank The Australia Institute has revealed that almost half of all Australians believe professional services firm PwC should be permanently banned from government contracts in response to its recent ethical failings, with altogether four out of five respondents agreeing that PwC should receive some period of punishment.
Just a mere 2% of the 1,000 respondents felt the firm should be free from such a sanction.
Mirroring the party-level (and the keen interest of both the Australia Institute and its right-leaning counterpart the Institute of Public Affairs), the public backlash also crosses political lines, a permanent ban being the most popular response of all persuasions. Those aligned to One Nation (59%) and the Greens (55%) were the biggest backers, while 43 percent of Coalition supporters also called for PwC to be officially blacklisted from government work.
Altogether 45 percent of those surveyed in early June – which coincided with public hearings on the matter – backed the hard-line action over PwC's government tax policy breaches, with 19 percent still being unsure or not having an opinion. Of the remaining respondents, 28 percent felt a ban of between two to five years or even up to a decade was appropriate, while just seven percent believed that sanctions should be less than two years or not be applied at all.
"There is overwhelming public support for PwC to face serious consequences for its gross breach of integrity and trust," said Australia Institute democracy & accountability program director Bill Browne. "The consequences cannot be limited to when the political and media heat is on, but must be long-lasting to show that this behaviour will not be tolerated. The firm has shown it cannot be trusted to continue receiving government work."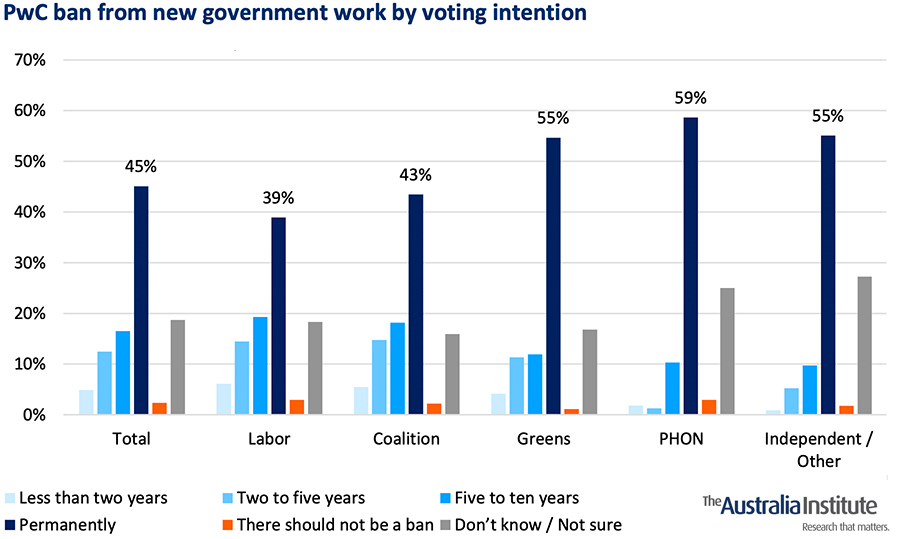 Surprisingly, considering the party's vow to slash the government consulting bill, Labor voters were the least likely to agree with a permanent ban, at just 39 percent. The majority of respondents from an earlier survey did however agree with Labor's general standpoint on consultancy, with close to three quarters saying the government spend was too much, and 79 percent believing that the public service should have the capacity to carry out the work being outsourced.
Ultimately, there was little divergence in public opinion across demographics, except for the younger generation being more far forgiving. Only one quarter of the later Generation Z cohort – voters aged between 18 and 29 – said that a ban should be permanent, compared to over 60 percent of those aged 60 or over, while more than a third thought that the stand-down shouldn't last beyond five years. The group also had the highest rate of 'no ban' responses.