McKinsey: Australia's infrastructure sector gearing up for change
In light of population growth and digitalisation, Australia will need to make significant changes to its infrastructure sector in the near future. Infrastructure currently contributes more than 10% of the gross value added to the Australian economy.
Changes are necessary for Australia to remain ahead of the curve when it comes to infrastructure, much like it has done for decades now. McKinsey & Company – a global management consulting firm – reports that Australia has been amongst the best countries in the world for the last 30 years when it comes to 'innovation, planning, financing and delivery' of infrastructural development.
The country has demonstrated successful public-private collaboration models in the domains of transport, energy and social infrastructure. Government planning has been supplemented by a substantial chunk of private investment over the years, as exemplified by more than $1,000 per capita shelled out on transportation in 2017 – the second largest figure amongst OECD countries.
Much like many other industries that have been cruising in recent decades, infrastructure in Australia now finds itself under fire from a number of directions. Among the biggest challenge for the country is its population growth, which is putting strain on existing developments.
McKinsey attributes the majority of this growth to the major urban centres Melbourne and Sydney, where the population is growing by approximately 2% annually. At current rates, Australia's population might cross the 40 million mark by 2050, while the current infrastructure supports just over 24 million.
An estimated 1% increase in infrastructure spending relative to the GDP will be required to support the growth in population, although the sector already appears to be speeding in the right direction. The cumulative investment in infrastructure projects valued higher than $50 million was $26 billion in 2016. By 2020, this figure is expected to touch $77 billion.
The jump in figures represents a 30% per annum growth rate in infrastructure investment, which suggests that the sector will manage to stay afloat at the very least. More complex threats to infrastructure in Australia come in the form of what the report terms 'technology-led disruptions.'
New mobility
One such disruption is the evolution of mobility in general. 'New mobility' – which encapsulates electric vehicles (EVs), autonomous vehicles (AVs), and app-based transportation systems – is gaining traction across the globe, and would have considerable benefits for Australia.
Business advisory firms L.E.K. Consulting and Cadence Economics recently reported that new mobility options could be adding as much as $92 billion to the Australian GDP by 2050. However, the realisation of this scenario is heavily dependent on the development of supporting infrastructure.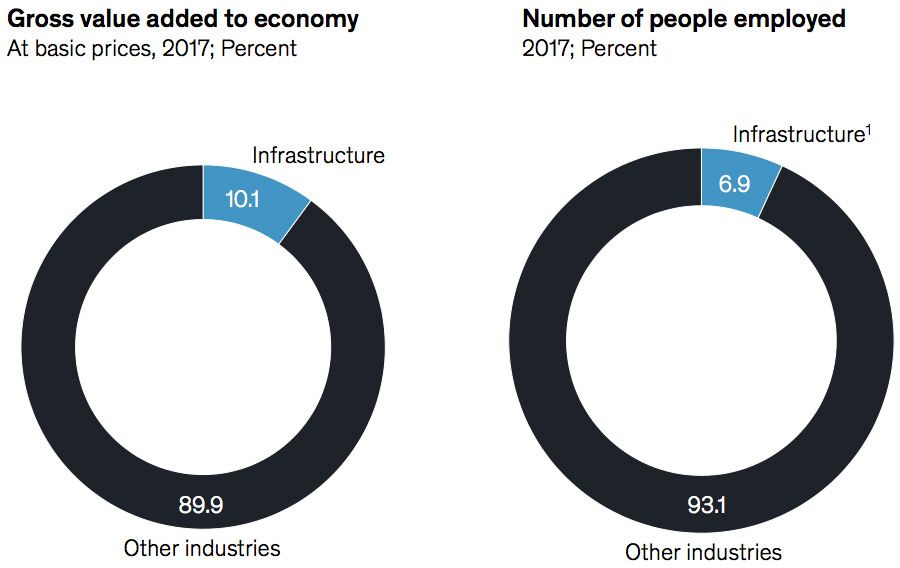 EVs require charging stations, while AVs benefit in a sensor-enhanced environment. Developing such supporting infrastructure requires a significant overhaul of the current scenario, calling for complex planning and implementation activity. This is in addition to, as the report states, 'stagnating productivity, expected skill shortages, and the impact of major concurrent projects on city residents and communities.'
Underpinning the ability to solve all these challenges is the availability of construction resources, which also appears to be falling short at present in Australia. Demand for employees in the construction and infrastructure sectors is set to skyrocket in over the next few years.