Kroll launches valuations practice with Ian Jedlin and Celeste Oakley
Recently launched in Australia, international consultancy Kroll has recruited Ian Jedlin and Celeste Oakley from KPMG to help launch its valuations business amid a local M&A boom.
Amid the strong mergers & acquisitions rebound in Australia, professional services firm Kroll – which expanded to Australia last year – has poached two KPMG leaders to help launch its new valuations practice locally according to a report by the AFR, with Ian Jedlin and Celeste Oakley joining the firm. Together the pair have provided over four decades of service to the Big Four both locally and internationally.
Ian Jedlin was until last month KPMG's head of valuations for the Asia Pacific and a former KPMG Australia board member, having spent the past two and a half decades at the firm. An economics graduate of Macquarie University in 1983 (with a masters in commerce from UNSW completed in 1990), he was by 2008 the partner in charge of KPMG's national valuations activities. He has been recruited as a managing director to be based out of Sydney.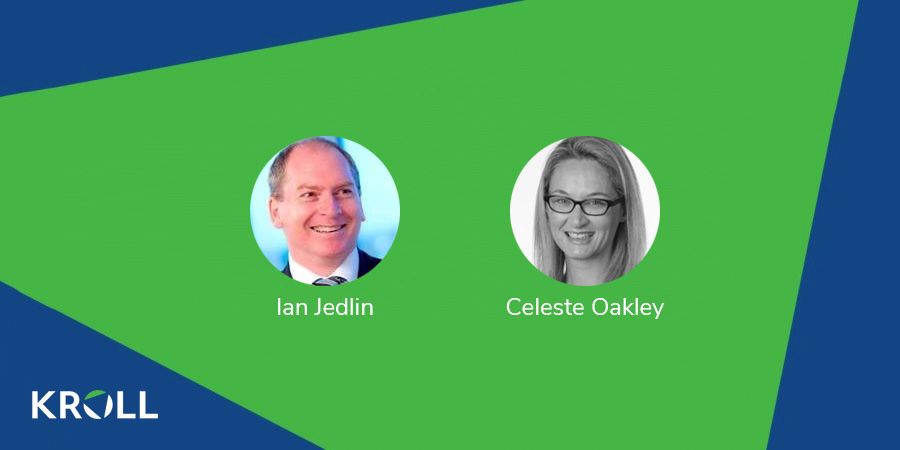 Celeste Oakley has meanwhile spent the past six and a half years as a director in KPMG's corporate finance division in Sydney alongside Jedlin (together establishing KPMG's independent expert report practice), with around a decade previously served at Ernst & Young between Australia and New York. She also holds a degree in economics from Macquarie, together with a Bachelor of Law, completed in 1988.
US-based and a specialist in corporate turnaround, acquisitions, and disputes and investigations, Duff & Phelps acquired international risk consultancy Kroll in 2018, prior to a $4 billion buy-outled by investment managers Stone Point Capital and Further Global, and is currently rebranding to the latter. The firm boasts almost 5,000 professionals in 30 locations worldwide, with its Sydney office, launched in May last year, one of the latest on that list.
"I'm proud to be joining the team at Kroll today along with my long-time colleague Celeste Oakley," Jedlin said in a post to LinkedIn. "I'm incredibly excited to be working for an organisation that has valuations as its core competency... It is such a great opportunity to build their business and network in Australia and the Asia Pacific, and to continue to assist the many people and companies I've been so fortunate to work with over many years."