PwC grows by 11% and KPMG by 9% in Australia
PwC has maintained its pole position in Australia's accounting, tax, consulting and financial advisory landscape, growing its revenues by double digits for the third consecutive year to a record level of $2.6 billion. Meanwhile, rival KPMG booked 9% growth in the past twelve months, lifting its revenues to nearly $1.8 billion.
Both Big Four firms have enjoyed a stellar financial year ending on June 30th, 2019. Revenue growth of PwC in Australia surpassed the double-digit mark – reaching an impressive 11% for the period – while growth in profits also extended into double figures. All the firm's verticals contributed significantly to the growth trajectory.
PwC: consulting leading growth
PwC's Assurance division, for instance, recorded growth of 11%, while the firm's Financial Advisory vertical – which includes services in the tax, legal, deals, infrastructure & urban renewal and the private clients domain – also registered double figure growth with 10%.
Revenue growth was the strongest in PwC's Consulting vertical however, which reflects growing demand for consulting services amid a disruptive business landscape, as well as the investment that PwC has made in developing its consulting capacity. The firm added 27 new partners to its Consulting vertical in Australia at the start of the 2019 financial year, and has since – at the start of FY2020 – admitted 18 new partners.
"Australia's businesses and organisations are challenged by the need to digitise, respond to regulation and be more transparent with customers, who are more active than ever before," explained Luke Sayers, chief executive officer of PwC Australia.
PwC Consulting helps client navigate these challenges with a broad mix of management consulting, technology consulting and risk consulting services. The arm currently has more than 1,900 people and 160 partners, and is led by Liza Maimone. The division also oversees PwC's strategy consulting subsidiary, which operates as Strategy&. At the helm of Strategy& Australia stands Ben Gilbertson.
"FY19 was the third year of our four year strategy which meant our focus was on deepening capabilities and consolidating investments rather than broadening or adding. We are focused on delivering exceptional thinking and outcomes for our clients with a key mantra of quality – quality in everything we deliver for our clients and the community," said Luke Sayers, CEO of PwC Australia.
Meanwhile, at rival KPMG…
KPMG Australia reported growth of 9% to reach revenues of $1.78 billion over the same period. The professional services firm has made two acquisitions over the period in question – the acquisition of Ferrier Hodgson, and that of acquisition of digital services firm Love Agency earlier this year. KPMG added a total of 104 new partners across all verticals in its latest financial year.
Commenting on the growth, CEO of KPMG Australia Gary Wingrove said, "FY19 has been another good year for KPMG, marking six sequential years of growth. During the year our clients nominated their top concerns as dealing with the challenges of digital transformation, innovation/disruption, regulation and political paralysis. Looking back, these issues provided the playbook driving demand for our services over the past 12 months."
All divisions made positive contributions to the firm's results, said Wingrove, highlighting in particular the strong growth achieved in restructuring, brand & marketing, legal and management consulting services. A record intake of graduates (545) helped the firm expand its headcount to 7,200 people.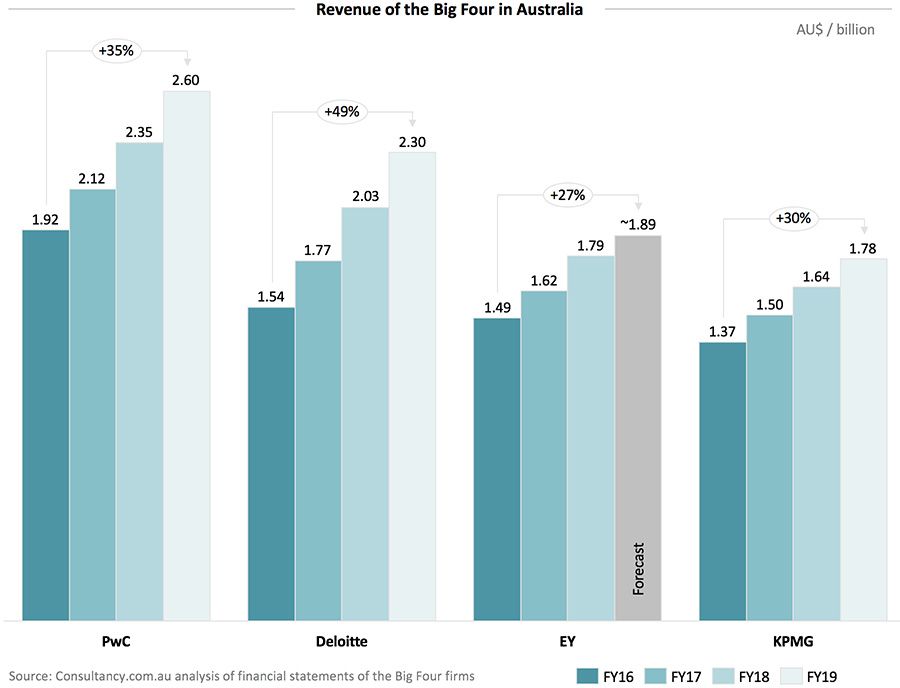 Looking ahead, Wingrove said that he anticipates FY20 to be "another positive year" on the back of a number of solid macro-economic fundamentals. "Low interest rates, tax relief for low income households, and supportive policy settings for business investment all point to positive domestic economic outcomes in the short term. We also expect M&A transactions to lift, buoyed particularly by foreign buyers who see investments in Australia as particularly attractive given current exchange rates."
EY and Deloitte
In similar fashion, other members of the Big Four are also performing considerably well in Australia. Deloitte reported double-digit growth for its fifth consecutive year, taking its overall revenues to $2.3 billion in its latest financial year. EY, meanwhile, is yet to release its annual report for the year, although analysts have forecasted growth between 6% and 7% for the firm over the same period.