Accenture to lay off up to 250 employees in Australia
Anywhere between 180 and 250 Australian jobs are at risk at Accenture following the global professional services firm's decision to lay off five percent of its global workforce.
Accenture's plan – as stated by global CEO Julie Sweet in an internal meeting with global leaders– is to lay off 5% of the "lowest performing "staff across its global headcount of 500,000 professionals. This amounts to around 25,000 job cuts worldwide, while in Australia – where the headcount stands at 5,000 – the policy puts would see up to 250 jobs go.
Reporting from the Australian Financial Review (AFR), which broke the news, suggests that 180 cuts have already been identified in Australia, as managers at the firm's local outfit have been asked to identify low performers in their teams using a new ranking system. Typically, professionals that are underutilised, or "on the bench" in consulting terms, run the highest risk of being shown the door.
Sweet indicated that the job cuts were a result of the pandemic's severe impact on the economy as a whole and on Accenture's own performance – which fell from a growth rate of 8% back in February to just over 1% once the pandemic had hit. The firm's initial response was to freeze out subcontractors and immediately halt new recruitment, although Sweet indicated that this wasn't enough.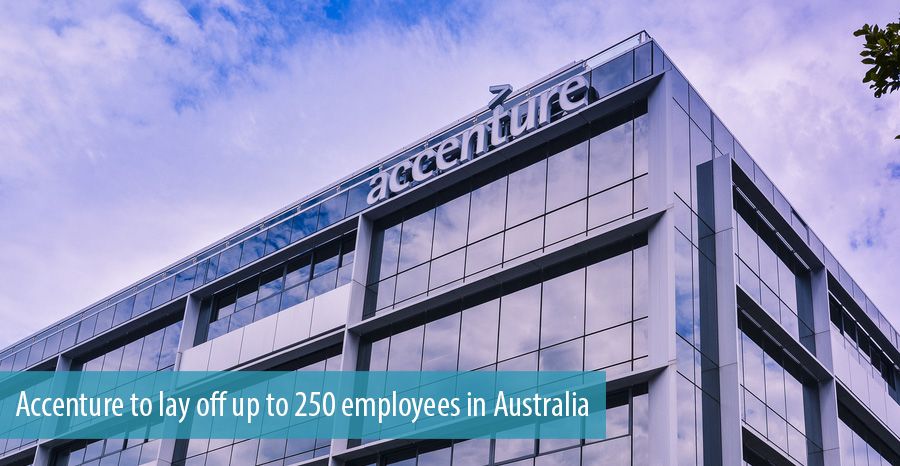 That being said, the CEO also pointed out that the wave of cuts is not a far stretch from the firm's usual policy. Indeed, Accenture cuts 5% of its lowest performing employees on an annual basis. The only difference is that in a normal year, it would replace this outgoing batch with fresh talent, while this year there will be no replacements coming in.
"Right now, we're not in a demand scenario, so if we manage out the same percentage of people and don't replace them, it allows us to continue to invest and preserve some people who have lower chargeability for when the market comes back," said Sweet. This year, Sweet revealed that an additional 5% of fourth quartile performers have also been identified as a precaution, in case the firm needs to further cut costs at short notice.
While Sweet and other Accenture executives have made a point to club these cuts as normal performance reviews, managers and executives have expressed to AFR that the new ranking system is a front to disguise broader job cuts. They report that even some high performing employees have had to be transitioned into the low performance bracket due to the ranking system, designed to fill the 5% quota.
At the same time, the firm has attributed the extraordinary measures to the abrupt need for cost cutting and realigning its resourcing model to the current environment, amid a fallout of demand from large clients. Accenture is not alone – the Big Four have similarly been impacted globally and nationally, and have been shedding staff by the hundreds or downsizing compensation packages.
Interestingly, Sweet's announcements were followed almost immediately by Accenture's acquisition of content production company CreativeDrive, which has about 700 employees across offices in the US, Australia, Brazil, China, Costa Rica, Singapore, South Africa and the UK. The creative marketing studio works for clients such as Estée Lauder, Michael Kors and Walmart.