Australia's top 25 consulting firms for graduates
New behavioural analysis on the first employer preferences of over 100,000 students and young professionals in Australia reveals the country's top consulting employers – meet Australia's top 25 consulting firms for graduates.
Working in the professional services and consulting is a popular career starter for graduates across the world, and in Australia it is no different. A global study conducted by Universum in collaboration with Consultancy.org (based on the views of over 250,000 graduates worldwide) found that consulting owes its popularity to a number of reasons.
Particularly the possibility of working across a breadth of assignments across different clients (and at most consultancies: in different industries as well) serves as a key factor for the high popularity. This provides graduates with a high level of challenge in their work and a steep learning curve. A large percentage of graduates also relishes the opportunity of working on high-impact issues – projects that can make a difference or reach the national headlines.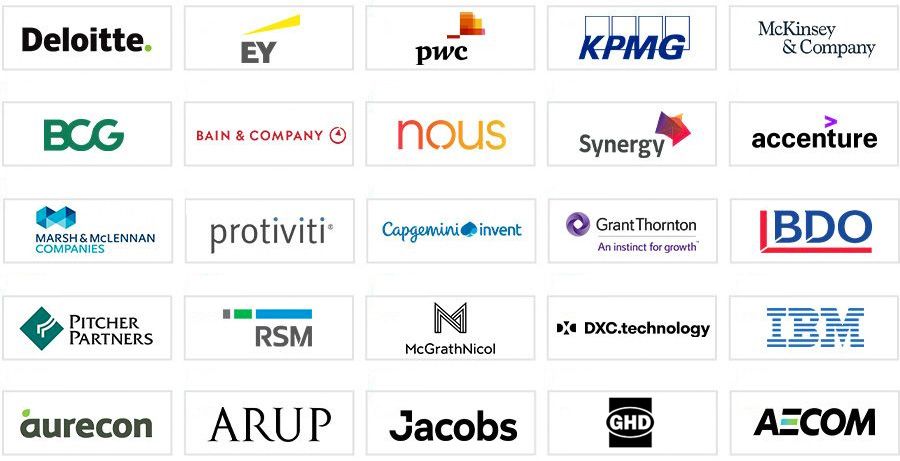 Second on the list: a strong focus on professional and personal development. Consulting firms are well-known for their extensive training and development programmes, supported by on-the-job learning through counselling on projects by senior team members. In addition, at consultancies graduates can undergo their professional development journey with a cohort of likeminded peers, which is perceived as a strong benefit for the industry's attractiveness.
Graduates further value the high degree of intellectual challenge – the bar for landing a job in consulting is high, meaning that many of Australia's top graduates work in the industry. Rounding off the top five drivers for consulting's popularity are the strong reputation of many leading consultancies in the business landscape, and the compelling career opportunities – professionals with consulting on their curriculum vitae are in high demand in other industries.
Australia's top consulting firms for graduates
Demonstrating the popularity of consulting in Australia, one-fifth of the top 100 graduate employers by GradConnection and AFR are either consulting firms or professional services firms with a consulting business. The analysis was based on the views of around 70,000 students finishing degrees at universities across the country, including those in Sydney, Melbourne, Brisbane, Perth, Adelaide, Hobart and Darwin.
Based on the data from GradConnection and Consultancy.com.au's own database of graduate preferences (which leverages behavioural analysis of over 40,000 graduates seeking a consulting job over the past year), here are Australia's top 25 consulting firms for graduates:
Deloitte
Company profile of Deloitte
Includes: Monitor Deloitte and Deloitte Digital

EY
Company profile of EY
Includes: EY-Parthenon and Port Jackson Partners

PwC
Company profile of PwC
Includes: Strategy&

KPMG
Company profile of KPMG

McKinsey & Company
Company profile of McKinsey & Company
Includes: McKinsey, McKinsey Digital and McKinsey Implementation

Boston Consulting Group (BCG)
Company profile of Boston Consulting Group
Includes: BCG, BCG Digital Ventures, BGC Inverto, BCG Gamma and BCG Platinion

Bain & Company
Company profile of Bain & Company

Nous Group
Company profile of Nous Group

Synergy Group
Company profile of Synergy Group

Accenture
Company profile of Accenture
Includes: Accenture Strategy & Consulting

Marsh & McLennan Companies
Includes: Mercer, Oliver Wyman and Marsh

Protiviti
Company profile of Protiviti

Capgemini Invent
Company profile of Capgemini Invent

Grant Thornton
Company profile of Grant Thornton

BDO
Company profile of BDO

Pitcher Partners
Company profile of Pitcher Partners

RSM
Company profile of RSM

McGrathNicol
Company profile of McGrathNicol

DXC Technology
Company profile of DXC Technology

IBM
Company profile of IBM
Includes: IBM Global Business Services

Aurecon
Company profile of Aurecon

Arup
Company profile of Arup

Jacobs
Jacobs is the parent of PA Consulting Group

GHD
Company profile of GHD

AECOM
Company profile of AECOM
The consulting firms and professional services firms are listed in no particular order.