Sports agency ASC spends millions on consultants and contractors
Australia's government agency responsible for sport has in its latest financial years ramped up its spending on external consultants and contractors by over one third, to a total of nearly $20 million.
Founded in 1985 and operating under the Australian Sports Commission Act 1989, the Australian Sports Commission (ASC) is the country's agency responsible for supporting sport and physical activity. The ASC consist of two entities: the Australian Institute of Sport (AIS) – tasked with grooming sport talent that can compete on the global stage including the Olympics; and Sport Australia – responsible for driving the broader sport sector across the country at all levels.
Analysis of ASC's annual reports by Consultancy.com.au shows that spending on external employees – management consultants, contractors and independent consultants and other professionals providing organisational or operational support to the primary activities of sport or secondary back office activities – has more than doubled since 2016.
According to John Wylie, the Chair of the Australian Sports Commission, the institution committed to "building a great sporting heritage and creating better opportunities in sport and physical activity for future generations" has in the past years radically improved its operations.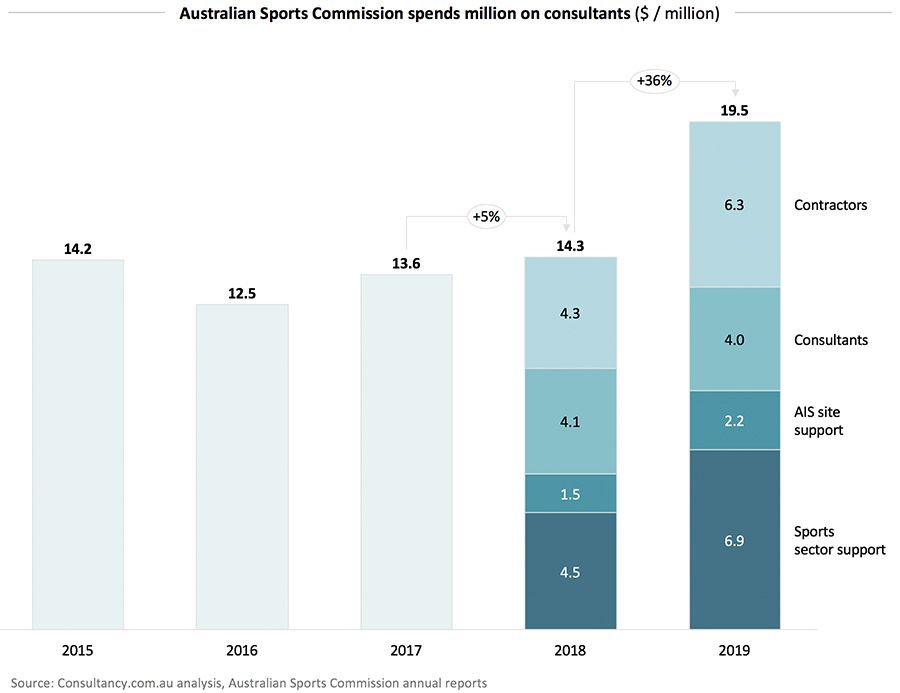 "We continuously challenge to do things differently and better. Consequently, we've continued to reduce costs in ASC operations, and reinvest the savings in sports. It's a little-known fact that in the past seven years, the average staffing level at the ASC has been reduced from 790 to 444 [a 44% reduction], while high performance grants to sports have increased from $106 million to $147 million. We're proud of that."
However, a five year view of spending on own staff and externals shows that the savings from less spending on wages and salaries has for a large part entirely gone to spending on consultants and contractors. In 2015, ASC spent $66.6 million on total employee benefits, and $14.2 million on externals. In other words, some 21% of all internal staff costs flowed to the pockets of externals.
Last year, ASC spent $55.5 million on employee benefits, down $11.1 million on 2015, but, fees of consultants and contractors amounted to $19.5 million, up $7 million. Currently, the Australian Sports Commission spends 35% of its own staff costs – including superannuation payouts and redundancy payments – on externals, an exceptional high percentage for a public sector agency.
The largest chuck of consultant and contractor spending goes to supporting the broader sports sector, aimed at ramping up the physical and sporting activity of Australians. According to the ASC, only 35% of Australian adults aged 15 and above are meeting physical activity guidelines for their age group.
Around $8 million was spent in the past two years on consultants, supporting a variety of activities including improvements to the organisation, implementation of IT systems, the delivery of programmes and the support of campaigns.
Significant fees were spent on the development and launch of the new Sport Australia brand in 2018–19, which launched in conjunction with the launch of the Australian Government's first national sport plan – Sport 2030. In recent years, marketing and advertising consultants such as Dentsu and Universal McCann bagged millions for their services planning and executing campaigns such as the 'Girls Make Your Move', 'Find Your 30 minutes of physical activity every day' and 'Move It AUS'.
Contractors were brought in for over $6 million, helping with specialist expertise of to fill in gaps in staffing. In one example, one employee (Mike McGovern) left the AIS but was rehired as a strategic consultant for over $350,000 in 2018 and 2019.
The modernisation of the main AIS campus site in Canberra is another area which is beefing up the wallets of externals. "The current site in Canberra has been a wonderful asset for Australian sport, but now nearly 40 years after being opened, it needs modernisation and renewal," said Wylie.
However, it are not just consultants on extravagant terms. According to reports in The Australian, AIS executives last year spent more than $3 million on travel costs to the Canberra campus, because "they prefer to fly in and out rather than live there." In comparison, this amount is more than the entire annual budget allocation to sports such as surfing ($2.73 million) or softball ($2.26 million).
Meanwhile, Chief Executive Officer Kate Palmer and Peter Conde (Chief Executive of AIS) both earned an annual salary of over $400,000 last year, with another handful of staff earning well over $200,000.
Further completing the spending portfolio, millions have been spent on training consultants for executive and manager level education as well as sporters; recruiters, often in relation to staffing professionals on interim roles; and real estate consultants, mainly for leasing contract services.