EY Australia shrugs off Covid to grow 9 percent to $2.3 billion
EY Australia has withstood the impacts of Covid-19 to post a 9 percent rise in revenues for its 2021 financial year, with the firm now level-pegging with Deloitte.
The Australian wing of professional services firm Ernst & Young now generates $2.3 billion in turnover, up by 9 percent over the twelve months to July. Although growth slowed on the 12.7 percent jump the year prior, EY continues to outpace KPMG (which grew by a slower 6 percent to break the $2 billion barrier) and close the gap with PwC and Deloitte, the latter which fell by 7 percent over FY2021 to now sit side by side with EY in revenue terms.
"This is a very strong performance, fundamentally driven by the outstanding contribution of our people who delivered exceptional service to meet the strong demand for our services, despite the ongoing disruption and challenge of Covid-19," said former CEO Tony Johnson. "Our client service teams were expertly supported and enabled by the agility, innovation, effort and the technology platforms provided by our core business services teams."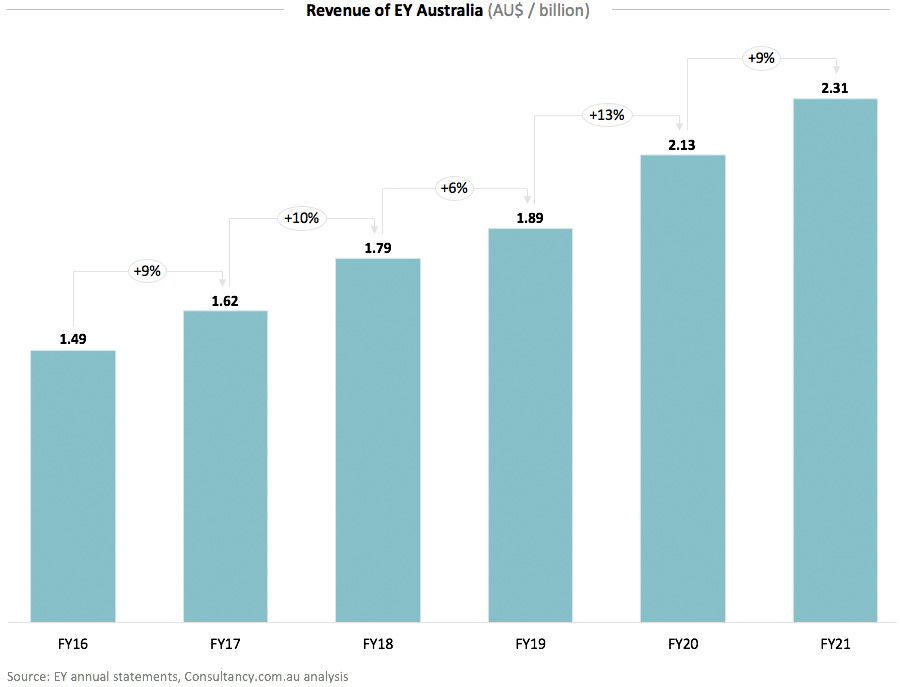 EY's Consulting (which includes risk advisory and actuarial services) and Strategy & Transactions divisions were the star performers, respectively up by 15 percent and 25 percent over the past twelve months, with the latter boosted by the acquisition and integration of EY Port Jackson Partners in the middle of last year. EY noted that its combined strategy business was now nearly 80-strong (including a recent raid on rival Strategy&), led by 19 partners.
Of the firm's two other major lines, Tax and Law revenue remained flat while Assurance grew by a more modest 2 percent, with strong growth in its forensics, accounting advisory, and climate change and sustainability (up by 11 percent) businesses cited as the drivers. EY's People Advisory Services team was also highlighted for strong growth of 10 percent, as was the firm's financial services business, which grew by more than 20 percent during 2021.
As a breakdown, EY's Tax and Law business contributed $570 million to the total revenues, with Assurance delivering $530 million. Strategy and Transactions brought in $330 million, while the firm's Consulting line – consisting of business & risk consulting, technology consulting, and data & analytics – is now worth almost $900 million, and should expect a further boost this year with the recent acquisition of cybersecurity firm SecureWorx.
"The volatility and disruption caused by Covid has changed the way we live, work and think forever. But this disruption has also created new opportunities for our clients, our firm and for all of us," commented CEO David Larocca, who took the helm last month. "What used to be 'future' issues – such as digital transformation, new ways of working, transport mobility, sustainability and climate change – have been accelerated to become 'now' issues."
The positive financial results come months after business network platform LinkedIn named EY the country's top employer for professionals seeking their next challenge.
Combined, the Big Four generate revenues of over $9 billion in Australia, up from around $6 billion five years ago. PwC is set to release its FY21 results in the coming weeks.