BDO hits 250 partners milestone following latest intake
Having cracked the $400 million revenue barrier last year, BDO has kicked off 2023 with yet another milestone: 250+ partners.
In its year-start promotion round, BDO appointed five new partners internally and brought in two externally, taking the firm's total number of partners to 252. BDO has both equity and salaried partners in its leadership team.
"This is yet another milestone we are extremely proud of," said BDO chief executive partner, Tony Schiffmann. "It demonstrates our growth, and the excellent calibre of people coming up through our strong pipeline of talent and our ability to attract outstanding professionals in a very competitive market."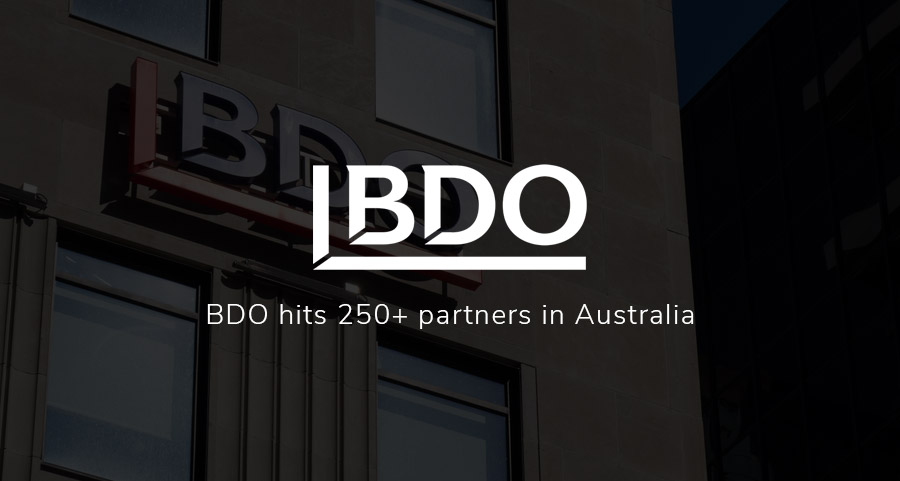 In its 2022 fiscal year, BDO saw its revenue increase by 15%, with advisory the star performer, up 25% on the year previous. "Our performance all comes down to our people," said Schiffmann.
Among the staff that were recognised for their contribution and achievements through a promotion were five directors. Effective 1 January 2023, Christian Patone (Audit, Melbourne), Josh Carver (Audit, Adelaide), Linh Dao (Audit, Adelaide), Mitchell Witt (Advisory, Brisbane), and Benjamin Schierhuber (Advisory, Cairns) have been admitted into the partnership.
Josh Goulton (Risk Advisory, Sydney) and Julianne Kennedy (People Advisory, Brisbane) have meanwhile joined as partner from Deloitte and EY respectively.
Schiffmann: "I am proud of the culture we have created at BDO – one where we are focused on developing our people and encouraging everyone to undertake their work with purpose, quality and pride. We are committed to continually developing and nurturing our future leaders, and seeing the talent exhibited across the firm makes it clear we have a strong future ahead."